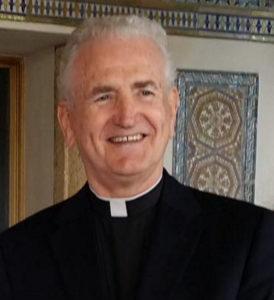 Fr. Hugh Duffy holds a Ph.D. from the University of Hull, England. Born in Donegal, Ireland, he was ordained in 1966 in Dublin, Ireland. He is pastor emeritus of Sacred Heart Catholic Church, Okeechobee, Florida, where he served for thirty years and whose parishioners consisted of a multi-ethnic community of Americans, Hispanics, and Asians. Before retiring as pastor, he and his parishioners built a new Church, debt-free, for the community of Sacred Heart in 2013.
Fr. Duffy also founded Christian Community Action (CCA) in Ireland to provide a concrete way of implementing the Corporal Works of Mercy in the Gospel of Matthew, chapter 25. Thus, CCA built housing for seniors, a sheltered workshop and bakery for people with disabilities, a community center, and a treatment center for people with addictions. (See this website's photo gallery for specific examples of this work.)
Since September 2013 he has been an Outreach Priest for Cross Catholic Outreach, Inc. which is recognized as a tax exempt organization under IRC § 501(c)(3). Their principal office is 2700 N. Military Trail, Suite 240, PO Box 273908, Boca Raton, FL 33427-3908, Tel: 561-392-9212
Fr. Duffy is the author of Queen of the Sciences, a book about the relationship between faith and reason in Catholic theology. A second, updated and expanded edition entitled Faith and Reason will be available soon. He is also author of the book What is This Thing Called Faith? This is a collection of meditations with reflections for the reader on the sayings of Jesus. Visit FatherDuffy.com for more information on this and other books and videos.